Masterpiece Banded Front Ramp with Interchangeable Beads
The Masterpiece Banded Ramp is widely used by custom makers all over the world. It's all steel construction and graceful styling make it the first choice of many customers. The ramp will accept all of the Masterpiece Banded Ramp front sight inserts, including silver beads, patridge, fiber optic and folding night sights with both traditional mammoth ivory inserts, and the new "white on white" folding night sight. The hood is locked into position be a spring loaded detent button. Delivered in the white and requires gunsmith installation.
Note: Inside diameter is cylindrical and not tapered.
Shop Peep Sights

Some people refer to them as "peep sights', others call them "receiver sights", and still others know them as "aperture sights". Regardless of what you call them you will be impressed with the quality, functionality and aesthetics of these creations by NECG. Shop Peep Sights Online Below!
Classic Ramp with Folding Hood
The Classic Ramp with Folding Hood is a modern version of a period style sight ramp that dates back to the days of the early express rifles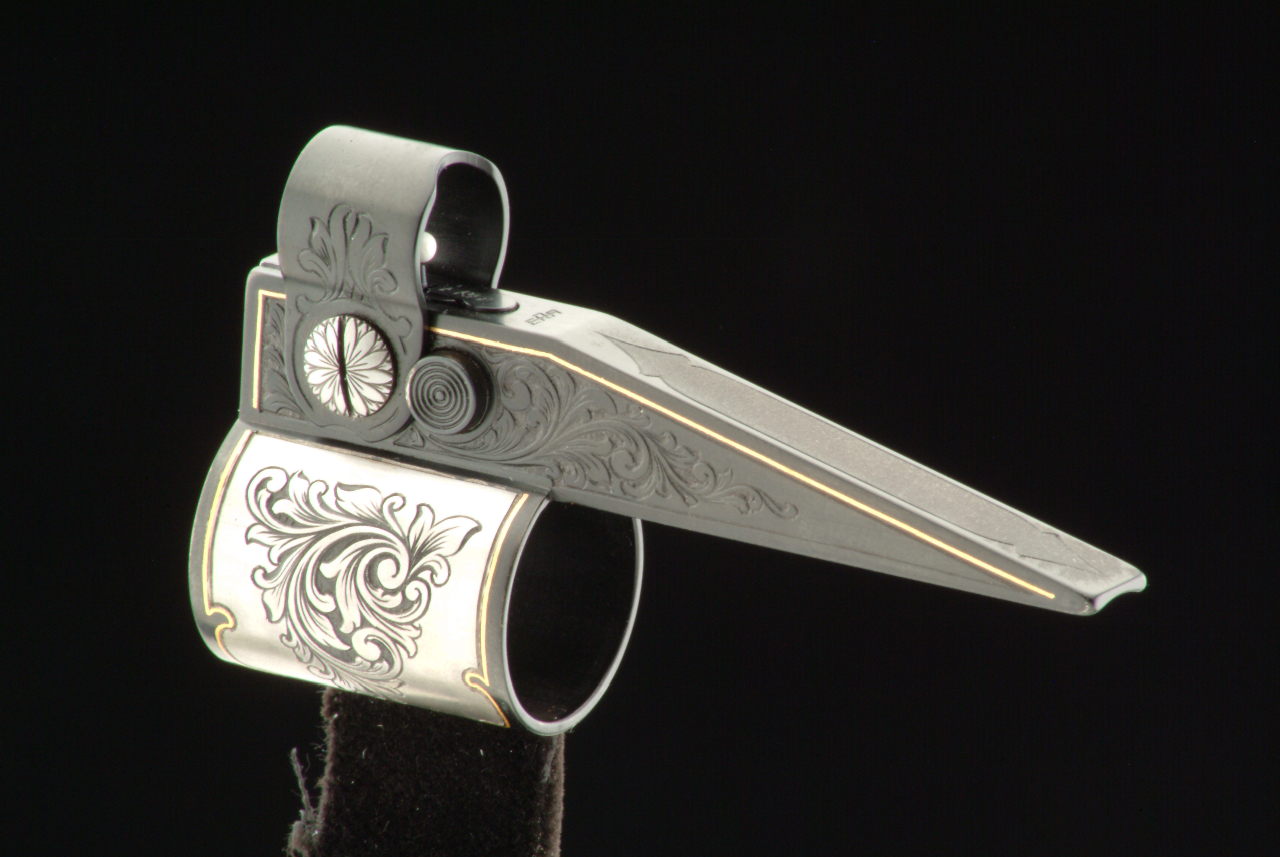 with its flat back tapered ramp and folding hood. The ramp will accept all of the same interchangeable front sight inserts used in their popular Masterpiece Banded Ramp which includes silver beads, fiber optic, patridge and folding night sights. The ramp can be modified to suit the taste or style of any rifle. The hood components have a blue oxide finish and the ramp is delivered in the white ready for fitting.
Inside diameter is cylindrical and not tapered.
Height to dovetail on all ramps is 10mm / .394".
Overall ramp length: 75mm / 2.95".
Ramp width: 8.5mm / .335"
Band length: 28mm / 1.10"
Band wall thickness: 1mm / .039"
Classic Ramp with Folding Hood Sizes

Inside Diameter
Code Inches mm
R-170-590 .590 15.0
R-170-610 .610 15.5
R-170-630 .630 16.0
R-170-650 .650 16.5
R-170-670 .670 17.0
R-170-689 .689 17.5
R-170-708 .708 18.0
R-170-728 .728 18.5
R-170-748 .748 19.0
R-170-768 .768 19.5
R-170-788 .788 20.0
R-170-866 .866 22.0
R-170-945 .945 24.0



Shop Classic Ramp with Folding Hood Options Below!